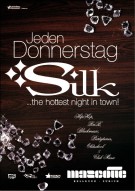 Do
16.06

DJ JUST BLAZE (USA)
DJS IRRESPONSIBLE, FADEOUT & MK
Türöffnung
Alter
ab 23.00
ab 21 Jahren
Abendkasse
Links
CHF 15.-
Facebook
SILK - this is my night!
HipHop, Oldschool, R&B, Blackmusic, Partytunes & Clubmusic
Gratis Cüpli und Eintritt für alle Ladies von 23.00 bis Mitternacht!
TODAYS SPECIAL GUEST: DJs JUST BLAZE (USA) (Producer and DJ for Dr. Dre, Jay Z, Kane West, P. Diddy, Rick Ross, Usher, The Game and many more..)
Hosted by MC D LAW
Visuals by Motionlab.ch
Burn Baby Burn like Disco Inferno!
Am Donnerstag, 16. Juni 2011, ist es endlich wieder soweit! Zürichs spektakulärste und beste Blackmusic Party, Silk ist dieses Mal mit einem Special Guest der absoluten Superlative am Start. Just Blaze, der berühmte Produzent und DJ aus den USA, hat jahrelang mit Jay-Z und seinem Plattenlabel Roc-A-Fella Records zusammengearbeitet sowie unzählige Hits unter anderem für Dr. Der, Kane West, Big Pun, DMX, Busty Rhymes, Snoop Dogg produziert, um nur einige seiner riesigen Referenzliste zu nennen. Nun ist er als DJ im Mascotte zu Gast und wird zusammen mit den DJs Irresponsible, Fadeout & MK das Publikum zum Schwitzen, Tanzen, Feiern und Abgehen animieren. Wer auf fette Beats und heisse Scratches steht, der ist hier goldrichtig! As we proceed, to give you what you need!